There will be a Junior High Football meeting on Friday, January 28 at 8:00am in Mr. Wigert's classroom for any students interested in playing junior high football for the 2022-2023 school year.

We will be doing our annual screening for preschool children on Friday, March 11, 2022. Parents need to contact the school to set up a time for the screening. In February, registration information will be mailed to families that have preschool-aged children. In order to qualify for preschool, children must be four years of age by August 1, 2022.

South Heart School is looking for all children in the area that will be five by August 1, 2022, for kindergarten. If you have a child or know of a child in the South Heart School District, please contact the school so we may send out information for the 2022-2023 school year.
South Heart School is currently accepting Open Enrollment Applications for the 2022-23 school year. Deadline is March 1. Please contact Supt. Calvin Dean at South Heart School for more information. (701) 677-5671

Remember to purchase Donkey Basketball tickets before Saturday, January 15 at the lower price of $15! Saturday, tickets will be $20 at the door. Tickets can be purchased at the school office.

Come join the fun at the FFA Kiddy Carnival on Saturday, January 15 before Donkey Basketball!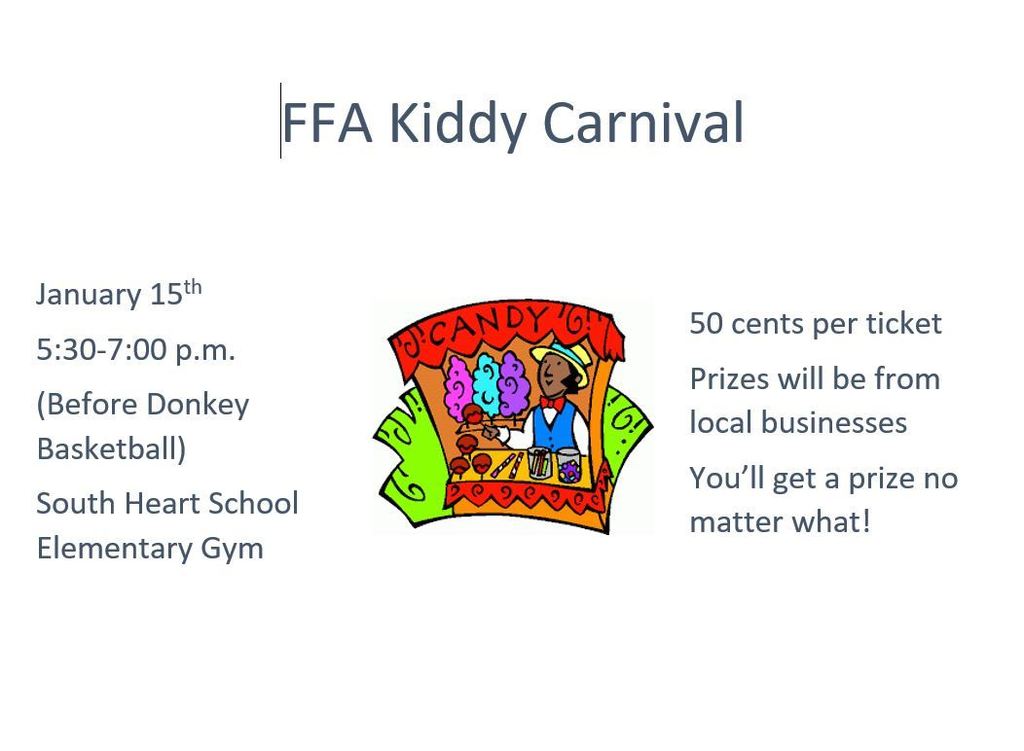 Check out the flyer for Dickinson Wrestling Club with registration information. This year club is open for boys and girls age 5 through 12th grade. Registration opens on January 10th.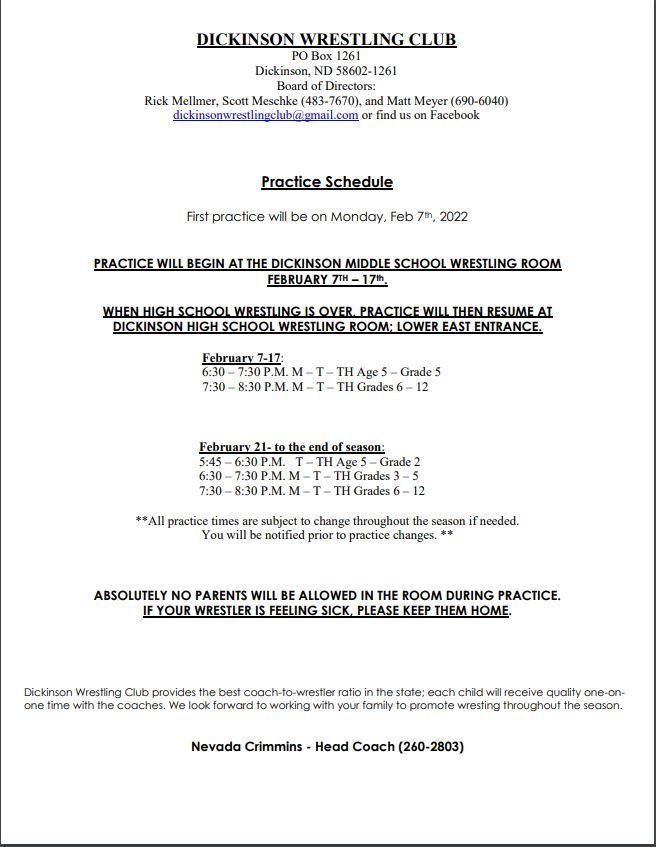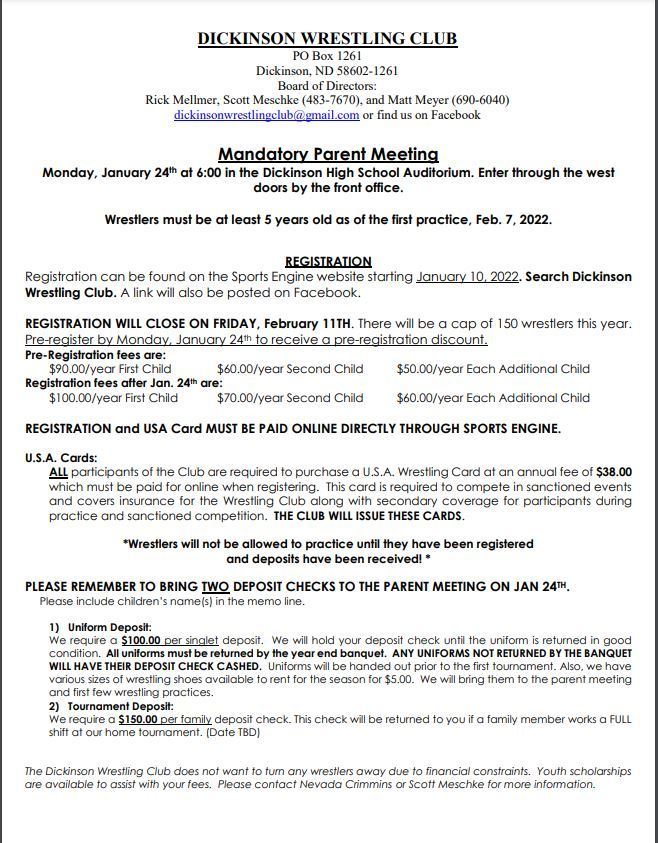 The Lion's Club is hosting a Blood Drive on December 23, 2021 from 1:30pm-6:00pm at the South Heart Fire Hall. If you haven't given a gift yet, please consider donating. For more information or to sign-up, please call Kathy Kuylen at 677-5815 or 290-2609.

Close Up Breakfast and Bake Sale--Sponsored by the St. Anthony Club Enjoy a delicious breakfast and pick up baked treats for the Holidays while supporting our Close Up students as they visit Washington, D. C. in the Spring of 2022. Date: December 19, 2021 Serving starts at 8:00 a.m. to 11:30 a.m Address: 105 1st Street SE, Dickinson 12 and older $10 Ages 7-11 $5 Menu Includes: Eggs, Sausage, Ham, Hash Browns, French Toast, Juice & Coffee Please share to help spread the word!

Donkey Basketball is BACK!!! We are looking for fun, energetic community members and South Heart Alumni to participate in this fun filled night at South Heart School on January 15, 2022. We are having four teams: SH staff, SH students, SH alumni, and Community. If interested or want more information, please contact Debbie K. or Lindzee S. at the school at 677-5671 or leave a message with Dana at the office.

2021 Lion's Club Peace Poster Contest winners were announced last night at the music concert. Check out the awesome artwork by some of our elementary students!
https://5il.co/12o4n

ATTENTION ALL PARENTS! We are in need of parent concession workers for the winter season! Dec 11 @ 9:30am Dec 20 @3:30pm Dec 28 @ 12:30pm Feb 3 @ 3:30pm Please comment if you can help. Also, we are in need of student concession workers grade 7-12. Sign up sheet is on concession door. Students are paid $10 a game that goes towards a school activity.


Congratulations to the final two winners of the Choir Tour Calendar Raffle! Keith Benz = $100 Karla Robb = $250 Thank you to everyone who purchased tickets!

Medora's Old Fashioned Cowboy Christmas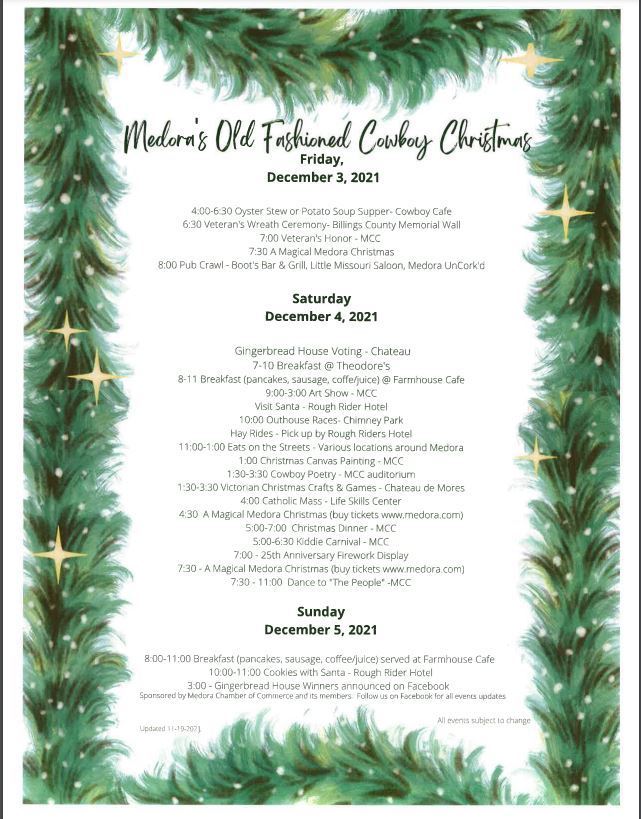 Congratulations to the fourth week's winners of the Choir Tour Calendar Raffle! Sharon Kilzer = $100 Craig Johnson = $50 Taylor Nelson = $50 Dana Urban = $50 Ashley Brewer = $100 There are still two chances to win on November 29 & 30!


Congratulations to the third week's winners of the Choir Tour Calendar Raffle! Nick Krump = $100 Leah Miller = $50 Jenny Zarak = $50 Jodi Schweitzer = $50 Jerry Karsky = $100 There are still seven more chances to win! Drawings end November 30th.

Congratulations to the second week's winners of the Choir Tour Calendar Raffle! Shanna Shervheim = $100 Jacob Becker = $50 Erin Isaacson = $50 Kim Anderson = $50 Melissa Proctor = $100 There will still be drawings every weekday during the month of November!